Industry Insights
Landscapers encouraged to do more marketing
Every year about this time, over 18,000 landscape contractors, equipment manufacturers and service providers in the Green industry converge on Louisville, KY, for the Green Industry + Equipment Expo (GIE+Expo) and Planet's Green Industry Conference (GIC). It is now the 9th largest trade show in North America. That makes sense considering that the landscaping industry is projecting to be an $80.6 billion industry by 2015. That's billion.
It's a pretty impressive number and certainly represents a whole lot of business opportunity. But I'm reminded that revenue is only part of the equation. What the industry needs to care about more is protecting and growing its profit margins. "A majority of the industry – 66 percent – still inks less than $500,000 in annual revenue and nearly half post net profit margins of less than 10 percent." * To improve those numbers can be a little more tricky.
Which brings me to the Planet GIC sessions I attended on marketing. There was a lot of the usual talk about using tactics like social media and digital marketing. Landscapers were encouraged to take up tweeting, pinning, liking, following and writing… lots of writing. But beyond the fact that, for most of these guys, a trip to the dentist would be more enjoyable than writing content, I think it's misguided advice.
Granted, North American landscapers in general still have to do a much better job at marketing their companies. They have to do a better job inspiring and educating the market about the benefits of what it is they do in order to drive demand for their services. Without adequate demand it's hard to position for profit. Without demand, companies will be quick to race each other to the bottom.
But the marketing challenges in the landscape industry are not a symptom of a lack of tactics or channels but rather a symptom of a lack of ideas. A lack of thinking. Encouraging everyone to become a writer without first challenging their own thinking is going to flood media channels with more useless info (which is already happening) and drive up skepticism, NOT demand.
Two exceptions in Louisville this year were Jim Paluch from JP Horizons and Daniel S. Gordon from Turf Books. Jim delivered his inspiring "Come Alive Outside" message and encouraged landscapers to think bigger and better about their work. Daniel gave some great advice on how to develop a marketing budget and measure its ROI. You'd think an accountant would only want to talk about the cost of marketing and advise against spending too much. Instead, he showed why landscapers might want to spend more on marketing this coming year but emphasized doing it smartly. I couldn't agree more.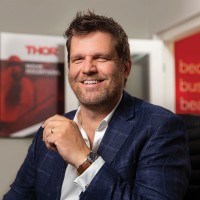 You may also interested in...